Man who finds time
Author: Rain Veetõusme
I marked those down at the end of 2006. The following story gives a brief overview of Sven's past activities and ideas.
It is easy for people who are not regular visitors to Toompea castle to get lost in these halls. So the first time it takes awhile to find Sven's office. I already have an idea how to get to his office from the lobby on my third visit, but even then I need Sven 's assistance. Thus I had to rise three times to Toompea to write the next story.
In order to talk about his biography and hobbies he had to carefully plan his time. It was so because of sessions of the Parliament, meetings of committees and working groups, meetings with ministries and representatives of the civil society and the electorate. Finally, we in find these three evening hours – an opportunity to chat in a more peaceful atmosphere (despite of constant ringing of the phone at 9 p.m.) on the topics detailed below.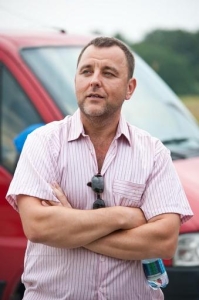 Sven was born in the middle of summer about 37 years ago and perhaps it is precisely the reason why, even after the toughest working days he can make the sun shine around himself. Even after a long and hard day his face shows no slightest sign of fatigue. Sven went to school in Kopli. It was formerly Tallinn Secondary School No 24, which today bears the name of Kopli Art School. Later he graduated from Tallinn University of Technology where he studied economics and information technology. It is worthwhile to note, that IT education will always lead to a systematic and purposeful thinking skills what are indeed vital personal characteristics for a politician.
Already on graduating the university Sven decided to realize himself in entrepreneurship. Having previously held a number of key positions also in other companies, he joined with the real estate enterprise ERI Kinnisvara in 1993. As a long-term corporate manager Sven had both good and bad times, but he considers prices per square meter still less important than his experiences. "Property prices may rise and fall quickly and speculators to win or lose fortunes in an instant. It is more important to try to understand people, to anticipate their needs, and at find the best solution. "Skills help to survive the tough times in all areas," Sven stresses the importance of the experience.
He has been involved in social activities for a long time. Still at school, Sven joined those nice and eager young people who had come together in the Hometown movement. Together they learned the history of Old Town, shaped the attitudes toward cultural values and cleared up the old town. "Tiina Mägi and her initiated hometown movement has certainly played quite a big role in developing my personality. My generation is certainly indebted to her for it, "says Sven reminding of the undertakings of the Hometown movement.
Sven has been active in Lionism since 1997. Charity programs for the homeless, the children in orphanages, kindergartens or, for example, planting of young forest represents only a fraction of the Lions daily tasks. "There are a lot of people in need, but I am glad that also aid providers are increasingly cropping up," Sven says enthusiastically.
2002. Sven Sester was elected as a member of the City Council of Tallinn in 2002. This can be regarded as his first political mission. Politics has been his hobby since 1999, but from the 2002 onwards he had the say on a daily basis as for the life management of the city and the country. "The job of the commissioner for the city is often thought to be easier than it actually is. In order to examine the background of a draft or to look at all aspects, it often requires a lot of busy days. At the same time dozens of new drafts are submitted to the council every two weeks. The dutiful commissioner has to devote a very large part of his time to the city."
After the City Council came the Parliament and a number of other social positions. The amount of work is still increasing. Sven says about the increased work load that if it is feared then nothing can be accomplished in the world. ".You should regard your job as a mission – if you are committed to something and find new targets to be achieved, it makes you happy for the rest of your life as you made the world a little better," summarizes Sven his work philosophy.
Although Sven has to break his back doing the work of many people and thus earned the nickname "the man like a bear," he cherishes his family most. Admitting that we all have the same number of hours every day, Sven finds that you must never wait until tomorrow to spend time with your family. "You just have to take some time for your family. You´d better switch off your cell phone and plan no meetings for your free moments. Family adds some substance and gives meaning to life," Sven says. He thinks that his children, his wife Kairi and, of course, his mother Anu may be called his best friends. Sven has actually a special relationship with his mother. ""My mother explained to me the importance of education and eruditeness, she led me to the literature. She told me what is most valuable in life – that is caring, politeness and willingness to understand another human being. He taught me first chess moves at the age of 4."
However, Sven is skillful to find time. "We need to make right decisions at the right time!" as he says. Given that the work of the Parliament has had a devastating effect on his leisure, Sven nevertheless finds time to the number of hobbies in addition to his work and family.
Although Sven likes reading books, ballroom dancing and fishing, bridge is one of his hobbies that cannot be ignored when we talk about him. Being a member of the Estonian Tournament Bridge League since 1993, Sven is the president of the same league since 2001. Sven has been participated even in the Olympic Games of bridge. 2004. He was in Istanbul as a member of the national team in 2004. In 2005 however, he won the Estonian Pairs Championship.
I asked Sven to bring out three truths, according to which he lives. The answer came quickly:
  There is never too much of a good thing
  You have to show respect towards other people and their opinions
  You have to think before you say.
At the end of our conversation I asked Sven if he would like former minister and his fellow party member Marko Pomerants have his phone number published in the national media. At that Sven burst out laughing. It appeared that his cell phone number 504 9222 could always be found on any public website related to him and Sven himself answers all letters sent to his e-mail at the address sven.sester@riigikogu.ee , not using assistants or secretaries to help.